When:
March 10, 2022 @ 6:30 pm – 8:30 pm
2022-03-10T18:30:00-05:00
2022-03-10T20:30:00-05:00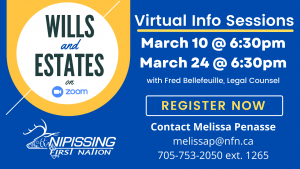 Nipissing First Nation members and affiliates are welcome to join us for an information session on creating a Will, Power of Attorney for Personal Care and Power of Attorney for Property, along with information on the steps to take upon the death of a loved one.
Legal counsel Fred Bellefeuille will provide information on the components of making a will and power of attorney and explain the importance of having them in place in advance. Following the presentation, we will provide information about what needs to be arranged through the Lands and Membership office after the death of a loved one.
PLEASE REGISTER IN ADVANCE for these sessions by contacting Melissa Penasse by email at [email protected] or by phone at 705-753-2050 ext. 1265.
Two dates have been selected for these online information sessions:
Thursday, March 10th from 6:30pm until 8:30pm
Thursday, March 24th from 6:30pm until 8:30pm
If you are unavailable to attend either of the sessions and would like to receive a copy of the information, please contact Cathy McLeod or Lee McLeod Faubert at the Lands office by phone at 705-753-2922 and we will mail or email a copy to you.