Bylaw Enforcement is managed by our two Enforcement Officers through the Natural Resources Department. Both officers have graduated from the Ontario Police College (OPC) and have the same training and qualifications as any police office or conservation officer.
Our Bylaw Officers handle community Bylaw Infractions and Animal Control Issues, including distributing warnings and fines, attending calls for service, delivering animals to the Humane Society and organizing annual Rabies clinics in collaboration with the North Bay and District Humane Society.
---
Contact Information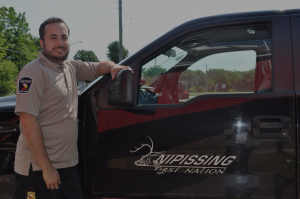 Tyler Couchie, Bylaw Enforcement Officer
Office: 705-753-2050 ext. 1224 | Cell: 705-498-2506
Clayton Goulais, Bylaw Enforcement Officer
Office:  705-753-2050 ext. 1236  |  Cell:  705-498-3823
To contact staff by email, please fill out the contact form on our Contact Us page.