In Nbisiing's Gichi-Naaknigewin (Big Law or Constitution), our people agreed that Anishinaabemwin is our official language, and English is a secondary language. We see people within our nation working hard to make this happen and are pleased to offer the following community programming to support the revitalization of our language: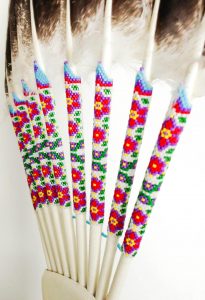 Weekly Anishinaabemwin classes in Ktigaaning (Garden Village) and Neyaaba'aakwaang (Duchesnay). In Ktigaaning, six fluent speakers attend every week to help students learn the language.
Monthly Anishinaabemwin Giigdong committee meetings to translate band documents and requests, and to plan events and activities aimed at language restoration.
Both of our child care centres infuse language and culture into their daily programming, and the summer children's program includes Anishinaabemwin language teachings.
Monthly Anishinaabemwin submissions of words and dialogue to the community newsletter Enkamgak and the employee newsletter Maajii Boodwe.
A collection of language resources are now available for sale at cost (cost of printing and recording) from the Culture & Heritage department.
Our Language & Culture Strategic Plan was developed with community input is in the final draft stage and will be adopted and implemented soon. View the project overview from 2018 here.
Language Program Sponsors: Nipissing First Nation, Canadian Heritage
Community Partners: Community Volunteers
Simple language resources are available to purchase for the cost of printing. View the Language Books Poster for more information.
Nishnaabemwin Song Recordings
Links of Interest
---
Contact Information
Mindy Lariviere, Enaadziwin Eniigaanzid (Culture & Heritage Manager)
705-753-2050 ext. 1232
To contact staff by email, please visit our Contact Us page.