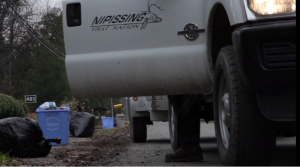 Nipissing First Nation (NFN) provides on-reserve residents with weekly curbside garbage collection, and bi-weekly curbside recycling collection.
Public Works staff completes garbage collection on Mondays, unless there is a holiday (then collection moves to Tuesday).  Recycling is collected bi-weekly on Tuesdays.  
View the schedule: 2023 Waste Collection calendar
---
Download the NFN Waste App for Apple or Android and never miss garbage day again! 
We service over 800 homes every week, and estimate that 75% of residents are participating in our recycling program (Aanji-Aapichitooyang).
Please check our Recycling Pamphlet for more information about the types of materials that are accepted, and review the list of items that should not be put in blue bins on our Recycling Flyer.
---
NFN Landfill Information
Hours of operation are 8 a.m, to 4 p.m. every Saturday, Sunday, Monday & Tuesday (except holidays)
The NFN Landfill on Mukwa Miikan is open for membership from Saturday to Tuesday from 8:00 a.m. to 4:00 p.m. year-round. The Landfill accepts electronic waste, metal and tires for recycling and has a small re-use centre for residents to drop off unwanted, but still useful, items.
The Landfill Attendant monitors the landfill site in accordance with the policies and procedures established by Chief and Council, and as directed by the Public Works Manager. The attendant monitors all users of the site to control the dumping of materials, while keeping an organized and safe areas for users who enter the site. NFN members are able to access the Household Hazardous Waste Depot for free drop-off of hazardous products.
For more information, please refer to the Landfill Site Information & Tipping Fees.

---
Recycling Program Highlights
NFN residents participate in a 2-stream recycling system (Fibers and Plastics) with a bi-weekly pick up. Our recycling is processed by two Materials Recycling Facilities and new products are created from the materials that are recycled.
More than 150 tonnes of recyclable materials are diverted from our landfill every year. Since the Recycling Program's inception in September 2012: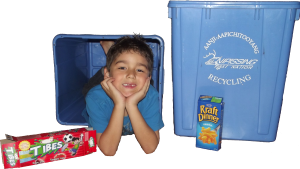 Approximately 4,000 tires have been diverted from our landfill;
We have diverted 526,560 lbs of metal from our landfill;
More than 600,660 lbs of electronics have been diverted from the landfill.
---
Organic Waste Depots
There are three (3) Organic Waste Depots located on Nipissing First Nation in the communities of Garden Village, Jocko Point, and Yellek.
A Permit is required to access the Organic Waste Depots. Please contact Public Works at (705) 753-4167 to receive a Permit at no cost.
The Organic Waste Depots are for the disposal of Organic Waste only, such as grass clippings, leaves, compost, and untreated wood debris. No other waste types are permitted to enter these locations such as plastics (bags, tarps), glass, metals, treated lumber, railroad ties, textiles, furniture, appliances, mattresses and any other non-compostable waste types.
Garden Village: located off Ted Commanda Drive near the old Landfill site (Gated, key required).

Jocko Point: located off Jocko Point Road next to the Fire Hall

Yellek: located off Nova Beaucage Road along the old rail bed.

Please click here to download the Organic Waste Depots Info Sheet.
---
Contact Information
Steve Doucette, Director of Community Infrastructure & Planning
705-753-2050 ext. 1220 or 705-840-3626 (cell)
Terry Larivière, Public Works Lead Hand
705-753-4167 ext. 4001
Sarah Lafantaise, Public Works Clerk
705-753-4167 ext. 4001
To contact staff by email, please visit our Contact Us page.