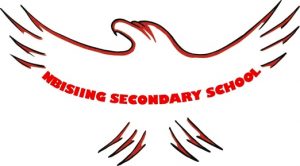 Located on the shores of Lake Nipissing, Nbisiing Secondary School is a First Nations operated and provincially-inspected private secondary school. Students receive a high-quality education leading to a provincial secondary school diploma with an emphasis on First Nations' traditions and values.
Nbisiing Secondary School represents a new vision for education in our Nation that focuses on the whole student – the intellectual, emotional, physical, social, and cultural/spiritual.
Nbisiing students are offered a variety of high school courses in small class sizes that deliver academic excellence, First Nations pride, and the skills to succeed.

---
Contact us
Lacy Farrell
Principal, Nbisiing Secondary School
705-497-9938
Nbisiing Secondary School
469 Couchie Memorial Drive
Nipissing First Nation ON P1B 8G5
To contact staff by email, please visit our Contact Us page.