Health Services Philosophy
We will reduce the dependency on the 'treatment' model by: providing people with the tools and skills to help themselves; increasing the coordination and integration of health services; and, providing support to individuals and families in need.
Through 'self care' concepts individuals will take direct responsibility for their own health and their families' health. This will help them gain confidence and feel better about themselves.
We will achieve this through a balanced approach to health services delivery which integrates western and traditional caregivers and practices. This will help strengthen our families and community.
In striving to offer a comprehensive community health program, we are mindful of cultural and traditional approaches to wellness, and also embrace new and innovative ways of delivering services.
This section offers links to the various programs offered by the NFN Health Services team:
Learn more about the new North Bay Indigenous Hub – an Indigenous-led agency that will provide programs and services for primary care and for early childhood development and learning.
---
Health Services Contact Information
Lawrence Commanda Health Centre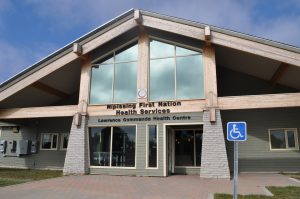 58 Semo Road
Garden Village ON P2B 3K2
Phone: (705) 753-3312
Fax: (705) 753-5087
It is the vision of Nipissing First Nation Chief and Council that Nbisiing will be a well-balanced, healthy, politically and economically independent, culturally strong and self-governing nation.

From this vision the goal to develop a holistic strategy to enhance community health and well-being emerges and provides direction for ultimate goal of Nipissing First Nation (NFN) Health Services "to help people feel good about themselves."
---
Social Services
Nipissing First Nation provides the following services under the Social Services umbrella:
Contact Information
Wendy Lariviere, Director of Social Services
705-753-2050 ext. 1230
To contact staff by email, please visit our Contact Us page.