Our department's scope covers Emergency Preparedness, Fire Protection and Health & Safety, with a mandate to protect infrastructure and community resources across Nipissing First Nation.
Emergency Preparedness
Beyond monthly Emergency Planning meetings and regular updates to our preparedness plan, we are working toward the implementation of the Aboriginal Disaster Resiliency Plan to measure NFN's abilities to rebuild after suffering through a number of different disaster scenarios for our area.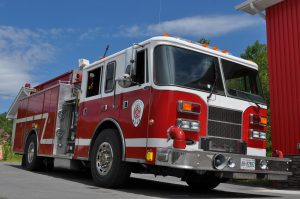 Fire Protection
Responsibilities include the recruitment and retention of fire fighters for all three fire halls within NFN (Garden Village, Jocko Point and Duchesnay). We currently have 12 firefighters in Garden Village, 13 in Jocko Point and 9 in Duchesnay for a total of 34 firefighters supporting Nipissing First Nation.
We have a fleet of 5 fire trucks, including a new pumper/tanker to service the Garden Village area and its large community buildings. The Duchesnay Fire Hall is equipped with a pumper/tanker with foam for quick suppression (foam works faster than water and is better suited to the Duchesnay and Yellek areas due to the lack of water hydrants in these areas).
We provide various types of training throughout the year, including tactical fire suppression exercises and equipment maintenance, and oversee administrative functions such as fire agreements, training documentation and automatic aid agreements. We also offer support and receive support from area fire departments.
Health & Safety
Responsibilities consist of documenting incidents, adhering to mandatory meeting requirements and ensure that NFN is a safe place to work. Awareness and training are provided to support NFN staff.
---
Contact Information:
Melvin McLeod, Enkiinid Wewiid Wiidookaagewin (Emergency Services Manager)
Office:  705-495-4603
Cell:      705-498-4407 (for non-emergency calls)
In an emergency, dial 9-1-1
To contact staff by email, please visit our Contact Us page.