Gwajiing Nokiiwin
Public Works takes direction from Chief and Council and implements the Strategic Plan and Goals via the Chief Executive Officer.  Each year, we develop an Annual Work Plan which includes bringing the roads to MTO Standard Grade and building, upgrading and maintaining infrastructure.
Nipissing First Nation maintains over 50 kilometres of roads linking 11 settlement areas across our 30 kilometre land base stretching from Duchesnay (near North Bay, Ontario) to Garden Village (near Sturgeon Falls, Ontario).
In addition to overseeing and completing road construction and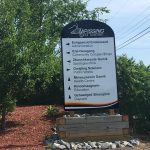 maintenance, Public Works is also responsible for:
Clean-Up Week & Goods Exchange Days
Community Wayfinding Signage
Dumping & Demolition Permits
Fallen Trees on Roadways
Fleet Vehicle Inspection – NFN holds a license from the Ministry of Transportation (MTO) and is a Qualified Motor Vehicle Inspection Station
Maintenance and upkeep work across our communities
Road Culverts (and culvert installations at cost)
Sand & Gravel Permits
Snow Removal and Road Salting
Street Lights & 911 Signage*
View the Public Works Brochure for other helpful information about the services we provide.
* 911 signs, garbage and recycle bins can be purchased at the Finance department, and picked up at Public Works, for the following costs:  911 signs ($83.90), garbage bins ($84.95) and recycle bins ($70).
---
Contact Information
Steve Doucette, Director of Community Infrastructure & Planning
705-753-2050 ext. 1220 or 705-840-3626 (cell)
Terry Larivière, Public Works Lead Hand
705-753-4167 ext. 4000
Sarah Lafantaisie, Public Works Clerk
705-753-4167 ext. 4000
After Hours / Emergency Contacts
Steve Doucette, Director of Community Infrastructure & Planning
705-840-3626 (Cell)
To contact staff by email, please visit our Contact Us page.