Local Delivery Mechanism (LDM)
NFN's Employment & Training Office was established in April 1998 and serves our community by providing programs funded through Service Canada/Human Resources Development Canada.
These programs enable us to work with our members to find programs that provide valuable skills and support through training and/or job placements while working towards becoming self-sufficient. We complete client assessments, wage subsidies and offer training and referrals.
Moving forward, we will continue to work alongside other NFN programs and partners, such as local community colleges, service organizations and businesses to develop programs that provide the training and skills our members need to meet the demands of the labour market today and in the future. These partnerships will continue to provide opportunities and enable the membership to be competitive in securing full time employment.
Employment Readiness and Self-Development Workshops
The workshops are coordinated in partnership with True Self Debwewendizwin Employment & Training and NFN's Ontario Works office.
Community Beautification Program
Our office works in partnership with NFN's Administration and Public Works departments to hire a seasonal crew for this 32-week program that began in 2016. The work consists of providing assistance in maintaining public and recreational areas, as well as supporting Elders and members who require assistance with outdoor clean-up throughout the community. This program provides workers with hands-on experience, while developing team work and leadership skills, as well as other valuable skills and training that can be transferable when seeking and securing other employment.
The Beautification Program generates employment while providing a valuable service to enhance the community.
Beaucage Park Archaeological Study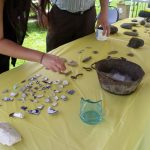 The Nipissing Archaeological Summer School is a partnership between the Lands, Education and Employment & Training departments that is funded through the Nipissing Enhancement Fund. The school has been in existence since 2014 and serves to introduce archaeology to our youth as a career path and to prepare them for further academic studies and employment opportunities in this field should they wish to pursue the opportunity.
This exciting experience has sparked interest for these students to consider further studies in archaeology and a career in this field of work. Many of our alumnae already earn wages from other archaeological sites in north eastern Ontario. For this sole reason of creating employment opportunities for our students, this Archaeological Summer School has been a successful project.
Stewardship Youth Rangers/Junior Rangers
The Junior Rangers program is offered in partnership with the Ministry of Natural Resources and Forestry. The Rangers are a team of 4 high school students and a team leader who spend 8 weeks working outdoors on natural resource management projects in and around the community. They also take part in training, such as Bear Awareness, Boat Smart, Wilderness First Aid, Young Worker's Health & Safety and Canoe Safety (ORCA), to make sure they are well prepared for their adventures.
The youth who participate in this program acquire valuable skills and knowledge about the environment, wild life and fish, and gain experience in protecting and sustaining the precious natural resources we have for future generations to come.

---
Contact Information
Thomas Lambert, Employment & Training Manager
705-753-6985
To contact staff by email, please visit our Contact Us page.