Mission Statement
Our Mission is to empower the membership to work together with common goals holding social, economic, environmental and cultural considerations, in building a stronger local economy for Nipissing First Nation and its members. The Economic Development Office is committed to the betterment of Nipissing First Nation communities.
Doing Business with Nipissing First Nation
Small business and self-employment account for a large part of NFN's economy. We have 40 small businesses run by nation citizens on-reserve, and an additional eight companies who lease land and/or space to operate companies that are not First Nation-owned, but that generate employment for our citizens and region. View our Business Directory for a complete listing.
For more information about doing business with NFN, visit the Business and Projects sections.
Partnerships & Funding
Nipissing also leverages local, provincial and federal partnerships in ways that support our Gichi-Naaknigewin (Big Law or Constitution). This is evidenced in NFN's investments in renewable energy projects, small business development, sustainable resource development, the construction of a commercial/light industrial business park, and a commitment to continually exploring innovative projects and partnerships to benefit the nation now and in the long term.
We increasingly borrow from ourselves (as opposed to traditional banks) so that interest is paid back to the trust and ultimately gets redistributed to citizens in the future from the profits generated by the projects we invest in. This has allowed us to enhance quality of life and benefits for our citizens living both on and off reserve.
NFN Owned Business
Beaucage Park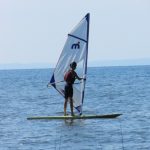 The park remains open for weekend day use by NFN members and affiliates during the summer months. Members planning a large gathering should call ahead.
---
Contact Information
Zack Lafleur, Economic Development Officer
705-753-2050 ext. 1264
To contact staff by email, please visit our Contact Us page.