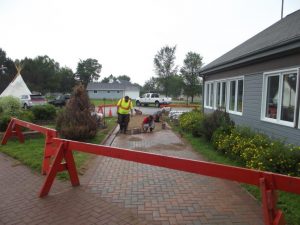 Our Maintenance department consists of 5 full-time staff members who are responsible for ensuring the operational and maintenance needs of our administrative buildings and community facilities are met. Maintenance manages emergency signage, monthly fire extinguisher checks, HVAC systems, landscaping as well as interior and exterior cleaning and property maintenance for the Administration Building, Fitness Centre, Public Works, Natural Resources, Food Bank, Fire Halls, Culture Centre and other NFN-owned administrative properties.
Each year, a group of workers make up the Beautification & Maintenance Crew, which is responsible for a number of seasonal projects, including: public spaces and maintenance assistance for Seniors, and clean up of traditional grounds, cemeteries, beaches, playgrounds and recreational areas throughout the communities of NFN.
Helpful Links
Beautification Program & Seniors' Lawn Care Pamphlet
Seniors' Lawn Care Policy
Seniors' Snow Plowing Policy
---
Contact Information
Brian Stevens, Maintenance Manager
705-753-2050 ext. 1252
Charlene Lalonde, Community Infrastructure Administrative Assistant
705-753-2050 ext. 1285
To contact staff by email, please visit our Contact Us page.