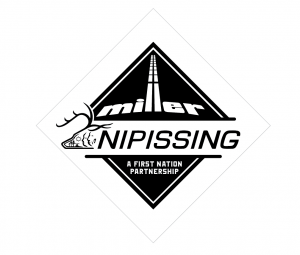 Join our Team!
Yellek Duchesnay Road Extension Project & Highway 17 Rehabilitation Work
Nipissing First Nation (NFN) and Miller Paving have established a strong business partnership that continues to grow. This partnership is a key element of NFN's strategy to build a stream of revenue that supports its vision of becoming an independent, self-governing nation.
Our partnership creates capacity to move community projects ahead while providing employment and training opportunities for NFN members and spinoff opportunities for private companies owned by NFN members.
The Nipissing Miller Partnership successfully completed its first project, the Duchesnay Creek Bridge Replacement, in August 2020 (learn more). The Yellek Duchesnay Road Extension project is currently underway and represents the next step in growing our partnership and generating positive benefits for our nation and members.
There are a number of positions available for the Yellek Duchesnay Road Extension project, as well as for the upcoming highway 17 rehabilitation work that will commence this year and continue until 2024.
---
Current Opportunities (Apply by May 20, 2022)
Interested candidates are requested to forward a resume to Sara Edwards in Human Resources at [email protected]. We would like to thank all applicants; however only those selected for an interview will be contacted.
For further information about the partnership with Nipissing First Nation, please contact Gen Couchie, Business Operations Manager for NFN at 705-753-2050 ext. 1243 or [email protected].
Preference to registered Nipissing First Nation applicants for Nipissing First Nation / Miller Partnership employment opportunities.