Economic Development
Support is provided for business and partnership development by the Strategic Advisor and Business Operations Manager. This includes a number of projects that are underway now including the continued development of Bineshii Business Park, the Greenhouse Project and the ongoing management of the Nipissing-Miller Limited Partnership.
Cannabis Negotiations
The Strategic Advisor has led negotiations with the Ontario Government to secure agreements with the Alcohol and Gaming Commission of Ontario (AGCO) and the Ontario Cannabis Store (OCS) that provides a strong competitive advantage for NFN Cannabis retailers. It also ensures that the AGCO and OCS recognizes NFN jurisdiction and work cooperatively with the retailers to ensure smooth, competitive operations for NFN stores.
Assisted Living Units
The Strategic Advisor is also leading the development of Assisted Living Units for NFN. NFN has secured SEED Funding to prepare the business plan and feasibility study for 10 units in Duchesnay and 10 units in Garden Village. Community consultation and design is being planned in 2021 with construction being planned for 2022.
Bineshii Business Park
Planning is underway to expand the Bineshii Business Park. NFN has secured an additional $1 million to complete this work through the Northern Ontario Heritage Fund Corporation. This will open up to 30 additional lots for small and medium size businesses in the park. Design for the park is complete and NFN plans to commence with some expansion in the spring of 2022.
Greenhouse Project
NFN has received more than $270,000 from the Northern Ontario Heritage Fund Corporation and FedNor to support the containerized greenhouse project. This project will create employment managing the operation and harvesting produce that will be consumed and sold locally.
Nipissing-Miller Partnership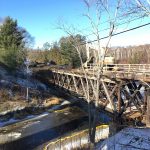 This successful partnership has created steady employment for NFN members throughout the development of the Duchesnay Creek Bridge project. The bridge opened in August 2021 with the rest of the project – the deconstruction of the rail bed overpass on highway 17B – slated to be completed during the summer of 2022.
There are a number of other projects that this partnership is currently planning to carry out including:
The environmental radon clean up in the Yellek area
The replacement of bridges and culverts at the Little Sturgeon River and Cache Bay Creek
The replacement of the Laronde Creek bridge
Rehabilitation of Highway 17 from Gormanville Road to Laronde Creek
Construction of the Bineshii Business Park
Learn more about the Duchesnay Creek Bridge Project.
Community Development Projects
The Strategic Advisor is also assisting in a number of other community development projects including:
The development of a Roundhouse for cultural, ceremonial, programming and educational purposes.
A new detachment building for the Anishinabek Police Service.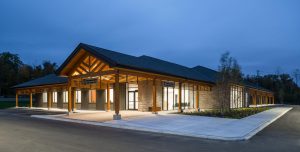 NFN Small Business Centre
As part of the KEB office building located in the Bineshii Business Park, the building design features 5,000 square feet of commercial space that is available for lease to NFN businesses and entrepreneurs at special incubator rates, and that is open to non-member businesses at competitive rates.
All units in the Small Business Centre are currently leased.
NFN Solar Projects
The 4 rooftop solar projects, with a total capacity of 166 kW, are under contract with the Independent Electricity Systems Operator (IESO) to generate electricity at a rate of $0.548/kWh, which translates to approximately $100,000 annually. These projects are located in Garden Village (Health Centre, Nipissing Ojibway Daycare, Seniors' Lodge) and in Duchesnay (Nbisiing Secondary School).
NFN – Solar Power Network (SPN) Partnership
Nipissing First Nation and Solar Power Network (SPN) have partnered to develop and operate a portfolio of roof mounted solar PV systems located throughout central and southern Ontario. The scope of this project has changed where the number of solar PV contracts was reduced from50 systems (14.2 MW) to 22 systems (6.7MW).
The systems are fully constructed and are in commercial operation. The ownership structure has changed where Solar Power Network sold its share in the partnership to Grasshopper Solar, a large renewable energy development company in southern Ontario. NFN's return on investment is 15%.
---
Contacts:
Dwayne Nashkawa, Strategic Advisor
Phone: 705-472-9649
Geneviève Couchie, Business Operations Manager
Phone: 705-753-2050 ext. 1243
Zack Lafleur, Economic Development Officer
Phone: 705-753-2050 ext. 1264
To contact staff by email, please visit our Contact Us page.