Become a bus driver! Nbisiing Bus Lines is currently experiencing a shortage of bus drivers. We ask that applicants be a minimum of 21 years of age and have a clean driving abstract. Drivers will be required to acquire a "B" license and complete a medical check. The Education Department will provide and pay for training.
If you are interested, complete the Bus Driver Application Form and submit by email or fax to 705-753-5827.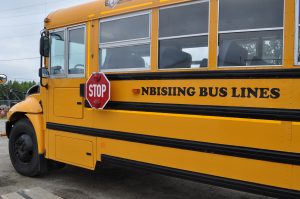 Nbisiing Bus Lines provides safe, reliable, and cost-effective school transportation to our community, serving West Nipissing, Nipissing First Nation, and North Bay. Nbisiing Bus Lines also provides charters for various NFN programs and functions.
Register your child
Complete the Student Information and Bussing Sheet and submit to the Education Department. The bussing coordinator will then let you know which bus your child will take and their pick-up time.
Please contact the Bussing Coordinator if you have any changes to your Student Information and Bussing Sheet. This includes pick-up and drop-off addresses, and contact information in case of emergency.
Where do we transport?
Nbisiing Secondary School
Bus cancellations
Like and follow Nbisiing Bus Lines on Facebook for updates on bus delays and cancellations.
You can also listen to the radio for updates as Nbisiing Bus Lines follows the direction of the Nipissing-Parry Sound Student Transportation Services for cancellations. Learn more about delays or cancellations due to inclement weather.
Bus safety
Nbisiing Bus Lines encourages parents and students to be familiar with bus safety to make school transportation safe for both drivers and students. Keep in mind that bussing is a privilege and not a right.
Visit the NPSSTS website for more information and resources for bus safety.
Drivers! When driving on a road without a median, you must stop for a school bus in either direction with its upper red lights flashing. At the front of the bus, stop at a safe distance to let children get on or off the bus and cross the road. Do not move until the lights have stopped flashing or the bus begins to move. On a road with a median, traffic in the opposite direction of the bus is not required to stop.
Resources
---
Contact us
Jeff Hanzlik
Kinoomaagewin Ezhbiiged / Kinoomaagewin Boozwin Niigaanzid
Nbisiing Bus Lines Bussing Supervisor 
705-753-6995
Office Address:
Binoojiiyag Enji-Kinoomaagsiwaad (Education Centre)
70 Semo Road, Garden Village ON P2B 3K2
Fax: 705-753-5827
To contact staff by email, please visit our Contact Us page.