Presentation Downloads
Goals #1 & 2 – Communication & Transparency and Governance Capacity – Brendan Huston, Chief Executive Officer
Note: there is no Powerpoint Presentation for Goals 1 & 2 (they are covered verbally in the recording), however our 2020-2021 Annual Report highlights our work and achievements in these key areas.
Goal #3 – Education & Lifelong Learning – Nancy Allaire, Director of Education
Goal #4 – Infrastructure & Community Resources – Patrick Stevens, Director of Community Infrastructure
Goal #5 – Stewardship & Protection of Lands, Water & Natural Resources – Cameron Welch, Director of Lands & Natural Resources
Goal #6 – Culture & Language – Glenna Beaucage, Culture & Heritage Manager
Goal # 7 – Health & Well-Being – Kimberly Lalonde, Director of Health Services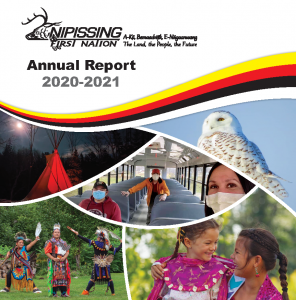 NOTE: Presentations about the 2013 Boundary Claim Trust are available on a separate web page that is password protected. NFN Debendaagziwaad (members) can obtain the password by contacting Melissa Penasse at 705-753-2050 ext. 1265 or by email to [email protected]. Once you have the password, please CLICK HERE to access these presentations.
---
Click here to view the complete list of draw prize winners from the AGM held on November 20, 2021. Winners have been notified directly.
Click here to read our 2020-2021 Annual Report. You can access all recent publications and reports here.