Audit Process in Place to Protect Community Safety
Essential businesses on Nipissing First Nation were allowed to reopen starting on April 22nd provided they meet all public health requirements and protect the safety of the community. To receive approval to reopen and remain open, all NFN businesses must follow a rigorous process, which is detailed at the bottom of this page.
Compliant Businesses Approved to Operate
Last updated July 7th
17 Hour Convenience
705-491-2453 – Click here for details
1 Jocko Point Road
Arrowhead Gas Bar & Convenience Store
705-476-3300 – Click here for details
Osprey Miikan
Carla's Kitchen & Catering
Click here for details
225 Semo Road
Cheerful Charlie's Cannabis Co.
705-472-9111
Osprey Miikan
Chester's Gas Bar
705-494-9747
35 Beaucage Park Road
Dot's Drive-Thru Cigarettes
705-474-0276 – Email

[email protected]

821 Couchie Memorial Drive
Duchesnay Store
705-475-9877
40 Goulais Crescent
Eagle's Nest Gas Bar
705-474-2726
2 Migizii Miikan
First North Enterprise
705-474-3000 – Click here to visit website
40 Goulais Crescent
George Carey, Financial Agent
705-476-9135
2 Osprey Miikan, Highway 17W
Golden Harvest Organics
Under Construction
Green Medicine
705-474-1258 – Click here for details
120 Commanda Crescent
How Convenient Variety & Souvenirs
705-472-2226 – Click here for details
7 Nova Beaucage Road
Jocko Point Fish & Chips
(705) 493-2453 – Click here for details
1 Jocko Point Road
Joseph Kennedy Law Office
(705) 498-6555
53 Lawrance Lane
Kana Leaf, Recreational Cannabis Dispensary
705-474-2021 – Click here for website or visit them on Facebook.
2 Osprey Miikan
Ktigaaning Midwives
705-476-2229 – Click here to visit website
40 Couchie Industrial Road
Miller Paving Ltd / Quarry / Waste
Click here for details
70 Couchie Industrial Road
Mino Niibish Boutique
705-471-0472 – Click here for details
132 Osprey Miikan – Suite 400
Moose Crossing Ice Cream
705-493-2453 – Click here for details
1 Jocko Point Road
Nadjiwan Law Office
705-753-9815
915 Jocko Point Road
Necessities Gas Bar & Convenience
705-497-0631 – Click here for details
10 Couchie Industrial South
Northern Brick and Tile
705-472-4020 – Click here for details
41 Couchie Industrial Road
Northern Convenience
705-753-0767
15 Veteran's Lane
Northern Zen Cannabis
76 Osprey Miikan
Nipissing First Nation – Miller General Partnership Inc.
Duchesnay Creek Bridge Construction Project
Northshore Convenience
705-494-8215 – Click here for details
31 Couchie Memorial Drive
Old Ideas Emporium
705-474-6468 – Click here for details
115 Little Lakes Road
Smoke 'N' PC's
705-497-9339 – Click here for details
Couchie Industrial North
Supplies for the Soul
705-471-0472 – Click here for details
132 Osprey Miikan – Suite 500
Tim's Convenience
705-580-3023 – Click here for details
115 Semo Road
Tobacco Rd. Gifts & Variety
No contact information available
90 Veterans Lane
Up the Hill Variety
705-478-0934 – Click here for details
3 Couchie Industrial Road
Yellek Self Storage
705-474-0676
2 Osprey Miikan
Young Forestry Services
705-472-7400 – Click here to visit website
3 Maang Road
---
Businesses that have been inspected and passed all public health requirements are required to display the Audit Pass sign below in their storefront: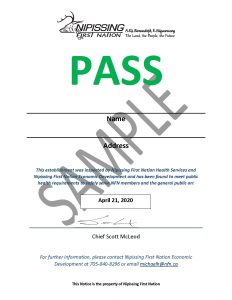 Businesses approved to reopen have satisfactorily met the following conditions:
Submit a plan for review by NFN that demonstrates current COVID-19 public health measures are in place at all times during business operations, and until further notice.
Undergo a site audit with NFN Health Services and Economic Development staff to validate that safety protocols are in place.
Receive approval from Chief & Council on the recommendation to allow the business to reopen*.
Post "Audit Pass" notice prominently in storefront for the public to view (see sample above).
Comply with any new or revised public health measures for COVID-19.
* Businesses that require further public measures to be put in place will be offered assistance through NFN Health Services in partnership with NFN Economic Development.
Ongoing monitoring of the business operations will be in effect and any public complaints about non-compliance will be investigated. Failure to maintain compliance with safe business practices will result in the business being required to close until it becomes compliant.
Businesses may opt into this process at any time, or remain in closure. We also ask business owners to do their part to minimize traffic to the community and to help however they can to continue to keep the community safe. The Anishinabek Police Service and NFN staff will be monitoring traffic in Garden Village and Duchesnay.
---
The information below is intended to provide guidance to NFN businesses during the constantly evolving COVID-19 situation. Please note that this information may be subject to change.
Support for Businesses
---
Background
For more information about the decision to allow businesses to re-open on April 22, please read the Community Notice here.
For details about the mandated closure of on-reserve NFN storefront businesses from April 7-21, please read the Community Notice here.