When:
September 7, 2022 – September 9, 2022
all-day
2022-09-07T00:00:00-04:00
2022-09-10T00:00:00-04:00
Where:
Nipissing First Nation Administration Building
36 Semo Road
Garden Village ON P2B 3K2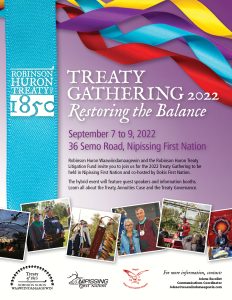 Robinson Huron Waawiindamaagewin and the Robinson Huron Treaty Litigation Fund invite you to join us for the 2022 Treaty Gathering to be held in Nipissing First Nation and co-hosted by Dokis First Nation.
The hybrid event will feature guest speakers and information booths.  Learn all about the Treaty, Annuities Case and the Treaty Governance.
View the provisional agenda here:  https://bit.ly/3SFccWB
For more information, contact:
Jolene Recollet
Communications Coordinator
[email protected]