When:
November 11, 2020 @ 11:00 am – 11:30 am
2020-11-11T11:00:00-05:00
2020-11-11T11:30:00-05:00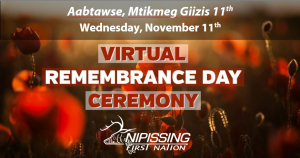 Ga-bi-zhaam Wii-Mikwendmaanaanik Zhimaagnishii Giizhgak.
Please join us as we remember and honour our veterans.
We have prepared a virtual ceremony this year since we are unable to gather due to the pandemic.
We honour and remember all the brave men and women who risked or sacrificed their lives so that we can enjoy freedom.  Miigwech to those who continue to serve today, protecting and promoting freedom at home and abroad.
Lest We Forget