When:
August 31, 2019 – September 1, 2019
all-day
2019-08-31T00:00:00-04:00
2019-09-02T00:00:00-04:00
Where:
NFN Community Complex
36 Semo Road
Garden Village
Contact:
Mindy Martel
705-753-2050 ext. 1260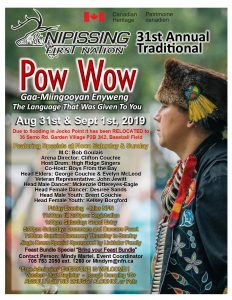 Join us for our 31st Annual Traditional Pow Wow August 31st & September 1st

Theme:  Gaa-Miingooyan Enyweng – The Language that was Given to You
Friday: Miss NFN Pageant in the evening
Saturday:  Special at 12:00pm (noon), Grand Entry at 1pm, Feast for Drummers & Dancers at 5pm
Sunday: Special at 12:00pm (noon), Grand Entry at 1pm
Free Admission – Everyone is welcome!
Vendors must register.  Rough Camping 18+.  Absolutely no drugs, alcohol or pets.
For more information, please view the poster or contact the Event Coordinator, Mindy Martel, at 705-753-2050 ext. 1260 or [email protected].
Nbisiing Dewegigewin 2019
**Sunrise Ceremony every day at 5:45am: Thursday through Sunday**
Sacred Fire Lighting Thursday at sunrise at powwow grounds

MAANIIGIIZHGAD (SATURDAY, AUGUST 31)
**Saturday Breakfast Vendor will available from 7am-11am**
Community Ceremonies/Specials – 12:00pm-12:45pm
Grass Dancers – 12:45pm
Grand Entry- 1:00pm – 2:00pm
Intertribals 2:00pm-3:00pm
Dance categories– 3:00pm – 4:00pm
Nishnaabemwin Special – 4:00pm-4:15pm
Decheno Family Men's Traditional special– 4:15pm- 4:45pm
Intertribals (feast bundle special  @ 4:45pm
Feast / Supper Break- 5:00pm-7:00pm
Hand Drum Special during supper break. 
Grand Entry– 7:00pm-7:45pm
Intertribals – 7:45-8:15pm
Men' fancy/Men's Chicken Dance – 8:15pm -8:30
Intertribals– 8:30pm – 9:00pm
Powwow ends for the day!
NAMEGIIZHGAD (SUNDAY, SEPTEMBER 1)
**Sunday Breakfast Vendor will available from 7am-11am**
Grand Entry – 12:00pm
Intertribals – 1:00pm-2:00pm
Category Dancing – 2:30pm-3:15pm
Hand Drum Finals– 3:15 – 3:30pm
Intertribals – 3:30pm-4:15 pm
Linklater Jingle Dress Special – 4:15pm- 4:45pm
Community Honour Song– 4:15pm- 4:45pm
Intertribals-4:45pm-5:15pm
Give away Ceremony– 5:15pm