January 20, 2022 – The outdoor rink in Duchesnay will open on Friday, January 21, 2022 at noon!
---
December 30, 2021 – We are happy to announce the opening of the outdoor rink in Garden Village on Friday, December 31st.
We appreciate the efforts of our dedicated staff members who have steadily worked in the evenings, over the holidays and faced difficult weather conditions to prepare the Garden Village outdoor rink for Nipissing First Nation community members.
Public Health measures to prevent the spread of the COVID-19 virus in our community will be implemented. We ask for your support to ensure the health and safety of all community members. The Garden Village rink maximum is 50 people and face coverings must be worn when social distancing (6 feet) is not maintained. NFN staff members will continue to monitor the rink to ensure the maximum capacity is not exceeded.
Washrooms and the changing room will remain closed and outside benches will be available.
The Garden Village rink will be open daily from 10:00 AM to 4:30 PM and from 5:00 PM to 10:00 PM. The attached schedule will provide times for open skates (no sticks or pucks), and for pucks or sticks.
If the schedule changes due to special programming or new Public Health restrictions, we will provide an update to community members.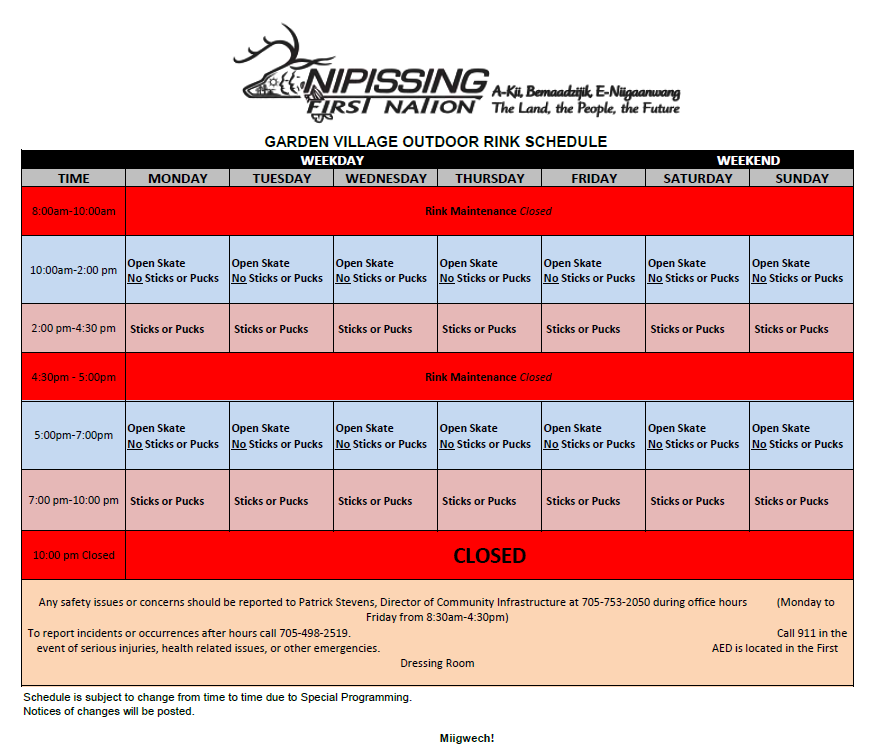 Contacts
Steve Doucette, Public Works Manager
Work: 705-753-2050 ext. 4001
Cell: 705-840-3626
Email: steved@nfn.ca

Patrick Stevens, Director of Community Infrastructure
Work: 705-753-2050 ext. 1220
Cell: 705-498-2519
Email: patricks@nfn.ca
Click HERE to download this notice in PDF format.
Click HERE to download the schedule in PDF format.