Stage 2 Work: Hwy 17B closed from Hwy 17 & Couchie Memorial Dr through September
August 18, 2021 – Stage 1 of the Duchesnay Creek Bridge replacement project will be completed this Friday, August 20th, at which point the bridge will reopen to traffic in the afternoon.
Stage 2 of this project includes reducing the hill between the entrance to Duchesnay and highway 17, as well as creating a new entrance into Duchesnay. This work currently requires temporary stoppages and delays on highway 17B from Couchie Memorial Drive to highway 17, while a full closure will be in effect through the month of September 2021.
The bridge replacement project has had a significant impact on Duchesnay residents and businesses for the past two years. In addition to having to take the 'long way around' to North Bay due to the bridge closure, we are aware that the Stage 2 work on highway 17B has recently led to some challenges in terms of the drivability of the road surface.
The Nipissing-Miller project team will continue to work diligently to ensure these projects are completed safely and with as few disruptions to residents and businesses as possible. Miigwech.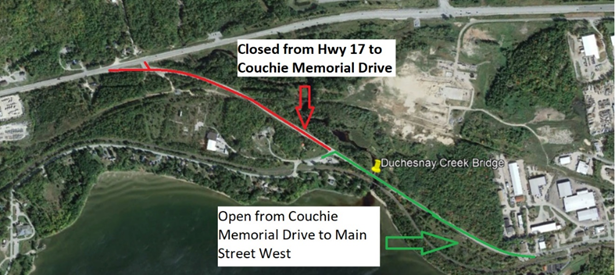 Please note: the shuttle service that has been operating throughout the bridge closure will continue operating until further notice.  An update will be provided in early to mid-September.
Should you have any questions or concerns about this road work, please contact:
Gen Couchie, Communications Officer
705-753-2050 ext. 1270 or genc@nfn.ca
Please click here to view/download this notice in PDF format.